Youth Arts Program Linocut Exhibition, Penola, South Australia, throughout March
Exhibition Sunday 5 March until 27 March 2017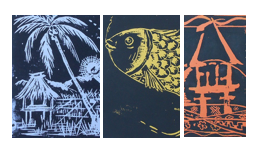 Gallery 54, 54 Church Street Penola SA
Opening Sunday 5 March at 2 pm, with guest speaker, John Kirby, Rotary Project Coordinator for Timor
In 2015, Gallery 54 sponsored Many Hands International, Youth Arts Programme in Lospalos in regional Timor-Leste. The gallery purchased equipment, lino, cutting tools, ink, rollers etc. for lino printing by students. This exhibition is a selection of prints made by the students and as promised, the gallery is exhibiting them for sale. This is a special fundraising exhibition and we look forward to community support. Funds raised will go back to Lospalos to support the Youth Arts Programme. Gallery 54 thanks Framing Solutions, Penola, for supporting the project.
Gallery hours: Thursday to Monday 10am – 4pm and every day during school holidays.
Find our more about Many Hands youth arts program here
Can't find what you're looking for? Try viewing the site map.