Time for creativity, flexibility and learning: how MHI is adapting its programs during COVID-19
Monday 11/05/20
As we have witnessed the impacts of COVID19 around the world, many of us have had to reimagine the ways in which we interact and connect. Over the past few weeks, our team has been exploring the flexible ways that we can continue to work together with communities, art students and project beneficeries, in this rapidly changing environment. The Many Hands team has ethusiastically been advancing their skills in video production, online lessons and sharing and exhibiting creative works online.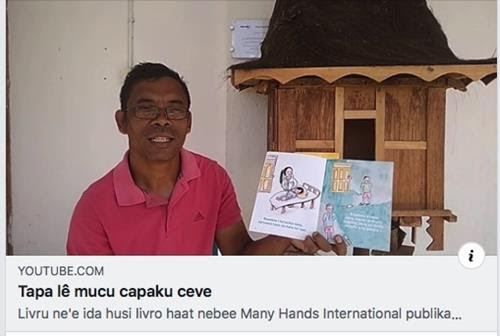 Family Story Time: online home reading activities in mother tongue languages

In 2020, Many Hands International commenced creating a series of storytime videos. These videos include MHI team members reading our recently published books in Tetum, Fataluku and Makalero languages, and assisting parents with strategies to support educational outcomes for their children.
The communication medium has mutiple benefits. The limitations placed on MHI and communities at this time, as a result of COVID-19 lockdown, has meant many communities have not yet been able to access these new resources. The videos allow parents and their children to see the books they helped create, and continue to support their child's learning while schools are closed.
Research presents consistent evidence that parent home reading can substantially improve children's education outcomes. The largest improvements occur when parents tutor their children. However, in some of the communities in which we work, many parents are illiterate. These videos further support children to develop their reading skills, by encouraging parents to play an active role in the home reading exercise.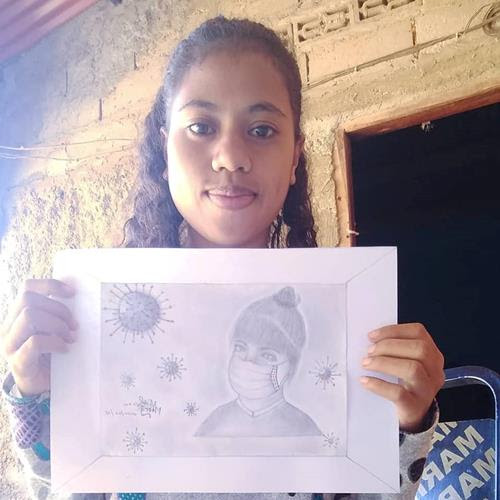 Creative art classes continue online
With the Lautem Cultural Centre closed, Arts Participation Officer, Cesario Laurdes has been busy exploring new ways to connect with his students and stimulate their creativity while stuck at home.
A series of online lessons are being developed to support his students creative learning and students and MHI have been actively engaging and sharing artworks created while at home, via the Whatapps platform (photo on the right: MHI student, Merry, shares her artwork created while in lockdown).
Be sure to follow Many Hands International's facebook page where we will be sharing more of our students artwork over the coming weeks: https://www.facebook.com/Many-Hands-International-216795681707605/
Culture conversations
Culture is vitally important for individual and collective wellbeing, as well as for the health of the environments of which we are custodian. Culture helps us understand the world around us and our place in it and helps us function as a society. It also helps us to endure and recover from hardships, both small and extreme.
Culture will help us rebuild in the aftermath of COVID-19, but it is also under threat from it. Our most vulnerable populations are at greatest risk, including our older generations who are typically the greatest knowledge holders and experienced practitioners of culture. Current isolation measures are designed to protect us, but they can also be an opportunity to help safeguard culture by providing the time and space to sit with (or call) family members to learn more about our histories and cultures.
In May, MHI will be encouraging people to learn more about their history and culture and will be posting weekly questions on Facebook to help with these conversations. We are encouraging people to write down what they learn and ask questions of grandparents, parents, aunties, uncles, siblings, children and whoever else they can safely communicate with – everyone has something to share!
We are also encouraging people to draw or paint something about what they learn. Our first question out of the hat is 'What is your earliest memory? Tell me about that time and what it was like'.
We look forward to hearing all the fascinating stories that surface.
Can't find what you're looking for? Try viewing the site map.